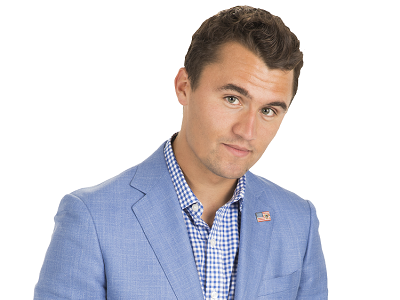 FINALLY! There's a new voice in the talk radio universe. He speaks the language of our nation's young people. He is hardcore conservative, and believes in the values of America. He is courageous, unafraid, and willing to take on this battle.
Show Links:
---
Saturday, October 23, 2021
In a long-form, thought-provoking third installment of 'Debate Night' — Charlie is joined LIVE from HQ by self-avowed Marxist professor of Philosophy, Atheist ...
---
The definition of "fully vaccinated" may morph as the push for booster shots increase. Centers for Disease Control and Prevention's director, Dr. Rochelle Walensky, made the announcement Friday during a White House COVID-19 response team press briefing.
"Right now we don't have booster eligibility for all people currently. So we have not ...
---
CHARLIE KIRK IS BUILDING THE FUTURE OF AMERICAN CONSERVATISM.
Speaking the language of our nation's young people, Charlie Kirk is the next big thing in conservative talk radio! He was named to the Forbes "30 Under 30" list, is a best-selling author, and he's the Founder and President of Turning Point USA, the largest and fastest growing conservative youth activist organization in the country.