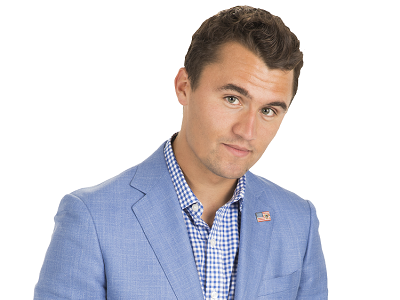 FINALLY! There's a new voice in the talk radio universe. He speaks the language of our nation's young people. He is hardcore conservative, and believes in the values of America. He is courageous, unafraid, and willing to take on this battle.
Show Links:
---
Tuesday, August 3, 2021
For more exclusive interviews, insight, and analysis like this, SUBSCRIBE to The Charlie Kirk Show TODAY: https://apple.co/2VCxGsh And for EVEN ...
---
Liberals have chastised Florida Governor Ron DeSantis for standing up for personal freedoms in his state against COVID-19 regulations. Each action by DeSantis made liberals foam at the mouth, and the mainstream media followed, resulting in a "tremendous amount of effort being expended in the mainstream media to hold...
---
CHARLIE KIRK IS BUILDING THE FUTURE OF AMERICAN CONSERVATISM.
Speaking the language of our nation's young people, Charlie Kirk is the next big thing in conservative talk radio! He was named to the Forbes "30 Under 30" list, is a best-selling author, and he's the Founder and President of Turning Point USA, the largest and fastest growing conservative youth activist organization in the country.