"Bohemian Rhapsody" Review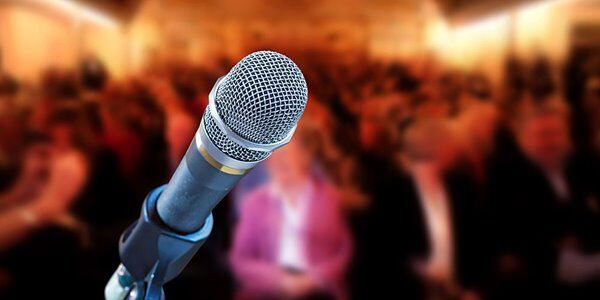 By John Hanlon
Despite issues during production (and there were plenty of them, including the termination of director Bryan Singer), the musical drama Bohemian Rhapsody became a worldwide success in 2018. Chronicling the rise of the iconic rock band Queen and its superstar leader Freddie Mercury, the film found a wide audience. It's not hard to see why.
The feature invites viewers into a story of a rising star in the music industry. Starring Rami Malek as Freddie Mercury, the film shows Mercury — who was working at an airport in his youth — joining a group of performers whose lead singer had just quit.
Guitarist Brian May (Gwilym Lee), drummer Roger Taylor (Ben Hardy) and bass guitarist John Deacon (Joseph Mazzello) welcome Mercury into the group. With Mercury set as the new lead singer, the group renames itself Queen and becomes a worldwide sensation.
Bohemian Rhapsody captures this story of great success in a crowd-pleasing way but never really focuses on a deeper understanding of its characters. Mercury is the feature's main focus but there are elements of his life that are simply glossed over so that the film can focus more on the music. For instance, his sexuality is hinted at throughout the film but it's placed off to the side.
The same can be said for many of the other characters here. There are glimpses into the lives of Brian May, Roger Taylor and John Deacon but when the movie alludes to their marriages or their feelings, it then drifts back to its main focus: celebrating the music itself.
In fact, there are numerous scenes here showing how the seeds of specific ideas were transformed into some of Queen's greatest hits. These scenes feel like an overt set-up used by the filmmakers to remind viewers why they love the band.
Undoubtedly, there's a lot to love about this band and the feature works best when the band's uniqueness shines through. As Mercury says, "We're four misfits who don't belong together playing to the other misfits." One of the best scenes here shows the band arguing that they want to feature an operatic song on their new album. It's here where we see the characters playing off against one another and standing up for something — a lengthy operative rock song — that scares a record executive (played by Mike Myers).
It's moments like this that reveal how Queen became a revolutionary group.
The film is undeniably served by a stellar performance from Rami Malek, who imbues the lead character with a passion and an energy that's hard to deny. Scenes showing Malek performing onstage as Mercury — recreating some of Mercury's biggest moments, including the Live Aid concert — really make his turn stand out. Other characters like Paul Prenter (Allen Leech), who works for the band and ultimately becomes a key figure in the story, are left with stereotypical roles that are never fleshed-out.
Fans of the band and of their music will find plenty to love about this feature. It ultimately celebrates the group and their many accomplishments. Those looking for more might be disappointed.